To One Dead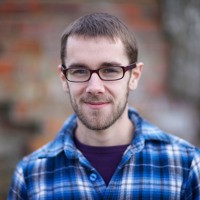 This work was inspired by the writings of poet Francis Ledwidge and is one of a number of works I am currently composing that utilises his poetry. Ledwidge was born in Slane, County Meath and wrote many short poems depicting the landscapes of Ireland. Like so many of his poems this text is full of strong imagery describing nature "blackbird singing" and "bluebells swinging". As a composer is it wonderful to work with a text that contains such vivid imagery and I tried to represent these images through the use of rich, condensed harmonies.
This poem, again like many of Ledwidge's, is simple in its construction consisting of two verses of short fragmented lines. I tried to convey this feeling of simplicity in the work, with the use of simple rhythms and melodic phrases. In essence I tried to capture the mood of restrained sorrow found in the poem, of descriptive scenes of nature and the longing conveyed in the final phrase "the silence was for you, the sorrow was for me". I particularly enjoy writing music for voices, and this is my second large scale work for unaccompanied choir (the first being my 2011 work Geimhridh). I find once I stumble across a text that I feel I can work and connect with, the compositional process is relatively straightforward. A key task for me is finding and understanding the soundworld of the text I am working with and then trying to devise a way to replicate this in music. A good text will have an inherent musical quality and through imagery and phrase patterns will almost suggest music to the composer, all we have to do is write it down! I like to work with poetry that deals with nature, particularly the nature of an Ancient Ireland that perhaps doesn't exist anymore.
The process of working with a group like the New Dublin Voices is an exciting one.  The workshop was very informative and it was exciting to hear some new works by my colleagues in the Collective. A group like the New Dublin Voices care about the music and the suggestions they make are for the good of the piece, and for the good of the performance. There is also the exhilaration of hearing a new piece for the first time and seeing how the sounds in your head are replicated in real life. I am not a fan of hearing my music in a concert setting and I much prefer hearing it in this type of workshop, where there is interaction and an exchanging of musical ideas involved. After any suggestions have been made and corrected the work is out of my hands and it is up for the performers to present it to a (hopefully!) willing audience.